Bastioni jadranske Hrvatske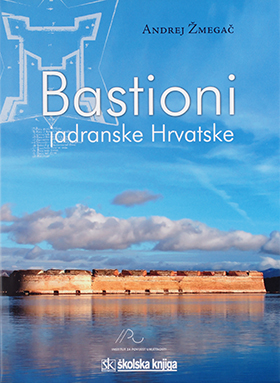 Autor
Andrej Žmegač

Recenzenti
Miroslav Bertoša, Duško Kečkemet

Izvršna urednica
Jadranka Hađur

Lektura
Vesna Arsovski

Grafičko oblikovanje
Franjo Kiš, ArTresor naklada; Sandra Anjoš Lalić (grafička urednica)

Prevoditeljice
Smiljka Malinar, Nina H. Antoljak

Izdavači
Školska knjiga d.d. – Institut za povijest umjetnosti, Zagreb, 2009.

Nakladnička serija i broj
Studije i monografije Instituta za povijest umjetnosti, knjiga 31

Materijalni opis
235 str.; ilustr. u boji; popis kratica, bibliografija, popis ilustracija, sažeci na tal. i engl. jeziku, indeks

ISBN (Školska knjiga): 978-953-0-61278-5

-
Knjiga analizira obrambene građevine izgrađene u bastionskoj eri utvrđivanja, to znači od početka 16. do potkraj 18. stoljeća. Pojmom jadranske Hrvatske obuhvaćena je Istra, Hrvatsko primorje i Dalmacija, zona što je u ono doba najvećim dijelom pripadala Mletačkoj Republici, a manjim dijelom Dubrovačkoj Republici i habsburškome carstvu. Glavnu opasnost predstavljali su turski osvajači, zaposjevši dobar dio obale i prijeteći glavnim dalmatinskim gradovima, a stanje su otežavale uskočke akcije i postupno sve zategnutiji odnosi među kršćanskim državama.

Između lokalnih okolnosti, ukupnih odnosa među europskim silama te strateških interesa Venecije nastajale su raznolike utvrde o kojima je u knjizi riječ.

(Napomena urednika)

Sadržaj

7–8
Predgovor

9–17
Uvod

18–26
Povijesni okvir

27–130
Bastioni mletačkoga posjeda

131–140
Bastioni dubrovačke republike

141–152
Bastioni habsburškoga posjeda

153–162
Doba bastiona

163–198
Pregled utvrda

199–200
Popis kratica

201–207
Bibliografija

208–211
Popis ilustracija

212–220
I Bastioni della Croazia Adriatica (Riassunto)

221–230
Bastions of Adriatic Croatia (Summary)

231–235
Indeks

-
Knjiga je objavljena uz potporu Ministarstva znanosti, obrazovanja i športa Republike Hrvatske, Ministarstva kulture Republike Hrvatske i Zagrebačke banke d.d.

* Knjiga se može kupiti kod izdavača Školska knjiga.